Huawei E5786 4G LTE Mobile WiFi router
Huawei E5786 is the world's first4GLTE Category 6 mobile hotspot which could support peak download speed to 300Mbps. Huawei E5786 is upgraded from Huawei E5776 and up to 10 WiFi devices to access internet via E5786.
Huawei E5786 could work as a wireless mobile hotspot or a USB Modem, it can also help desktop to access internet via Ethernet through Huawei AF18. E5786 also has the function of sending short message, sharing MircroSD card and LTE/3G/Wi-Fi auto offload. What's more, huawei E5786 could work as a mobile power bank for mobile phones or tablets.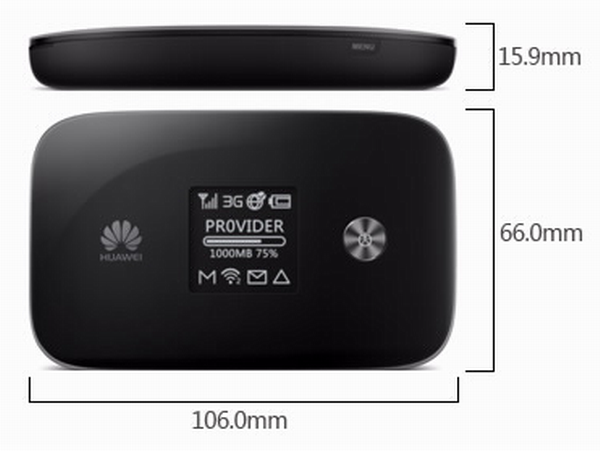 Huawei E5786 Technical Specifications:
* Huawei E5786s-32a: FDD 2600/2100/1800/900/850/800 MHz & TDD 2600 MHz
* DC-HSPA+/HSPA+/HSPA/UMTS: 2100/1900/900/850 MHz
* Network mode: FDD/TDD/DC-HSPA+/HSPA+/HSPA/UMTS/GSM/GPRS/EDGE
* LTE FDD CA (DL) data service of up to 300 Mbit/s
* LTE FDD (DL) data service of up to 150 Mbit/s
* LTE FDD (UL) data service of up to 50 Mbit/s
* LTE TDD CA (DL) data service of up to 224 Mbit/s
* LTE TDD (DL) data service of up to 112 Mbit/s
* LTE TDD (UL) data service of up to 20 Mbit/s
* DC-HSPA+ (DL) data service of up to 43.2 Mbit/s
* HSPA+ (DL) data service of up to 21.6 Mbit/s
* HSDPA (DL) data service of up to 14.4 Mbit/s
* HSUPA (UL) data service of up to 5.76 Mbit/s
* UMTS data service of up to 384 kbit/s
* EDGE data service of up to 236.8 kbit/s
* GPRS data service of up to 85.6 kbit/s
* PS domain data service based on LTE/UMTS/GSM
* SMS based on UMTS and GSM
* Built-in LTE/UMTS/GSM and WLAN high gain antenna
* Micro Secure Digital Memory (microSD) Card
* WLAN: IEEE802.11a/b/g/n/ac, 2.4 GHz and 5 GHz
* Dynamic frequency selection (DFS) for 5 GHz Wi-Fi
* Wi-Fi and WPS
* Menu-style LCD UI
* Five-second fast boot
* LTE/3G/Wi-Fi auto offload
* Support for USB-to-Ethernet conversion with the AF18 conversion cable
* Supply power to devices
* Press and Play
* IPv6/IPv4 dual stack (optional)
* Display current SSID and Wi-Fi key on the screen
* Built-in DHCP Server, DNS RELAY and NAT
* Online software upgrade
* Traffic statistic
* Standard Micro USB interface
* TFT-LCD screen
* Windows XP SP3, Windows Vista SP1/SP2, Windows 7, Windows 8, Windows 8.1 (does not support Windows RT), MAC OS X 10.7, 10.8 and 10.9 with latest upgrades
* AC: 100–240 V, DC: 5 V,2 A
* Capacity: 3.7 V, 3000 mAh,
* connect up to 10 devices simultaneously
* Battery: 3000 mAh, maximum operating time to 10 hours and maximum standby time to 500 hours
* Could be used as mobile power bank to charge iPhone, iPad
* Dimensions:106.0mm/66.0mm/15.9mm
* Weight:155g(with battery)
* Supported by systems : Windows XP SP3, Windows Vista SP1/SP2, Windows 7, Windows 8, Mac OS X 10.6, 10.7, 10.8 and newer